Myth Busting: Are Ski-in, Ski-out Properties Worth the Premium?
14th November 2018 | French Alps
Everybody knows that when looking to buy or rent an alpine property, whether for a week, a month, or for life, the main attractions are hot tubs and ski-in, ski-out access. But, is paying the premium for ski-in, ski-out actually worth it, or is it often more inaccessible?
Your ski ability
So let's get straight down to it. The accessibility of the chalet often depends, in reality, on your ski ability. Most companies will use the term ski-in, ski-out at any opportunity to advertise their chalet; and this is often a very tedious use of the word. It may be next to the piste, but the reality is that it's a 20 foot steep drop, which you have to walk up and down, like one of the chalets we recently visited in Val d'Isère. Many ski-in, ski-out chalets are located on tricky pistes, or require a trip off-piste and through the trees to access them. Or it might be down the end of a very flat track which in fact takes you 10 minutes of pushing with your ski poles (torture). Now, this might be worth it for you. It might be an easier route, in your opinion, than having to drive to the slopes. Which leads me to my next point…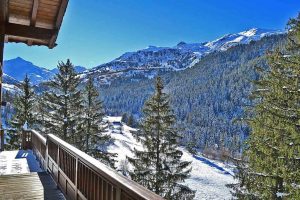 MYTH-BUST – most non-basic chalet companies now provide vehicles to transport guests to and from the slopes if you're not within a couple of minutes' walk from the piste. This means that not being 'on' the piste, doesn't mean that you have to walk for 30 minutes in your ski boots or catch a bus heaving with people.
Privacy & Location
Whilst there are still some absolutely beautiful properties which stand alone, surrounded by peace and tranquillity and are ski-in, ski-out, many of the high-end ski resorts have only a few of these; popularity of accessibility having pushed more and more development within the area. As such, more and more people who buy high-end chalets are venturing to the more exclusive areas that are not on the piste. If you're paying for a luxury chalet and want to believe you're alone in the world, not overlooked by anybody and with uninterrupted views then this is surely a blissful solution. It also leads to more space on your property, without paying the huge premium of piste-side and also having room to relax, host or have fireworks if you so desire! This does mean a little drive to the slopes, but it's often a maximum of 5-10 minutes.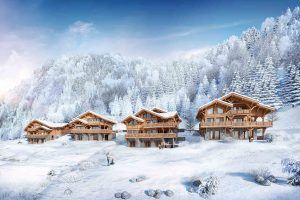 The calm after the chaos
In our opinion, that time in a luxury minibus is well spent to get yours and the kids ski goggles on, helmets secure and make sure you all have your lift passes. It gives you time to breathe. As much as we all love skiing; those mornings trying to get out of the chalet can be stressful! This gives you some time to re-set after the chaos, make sure you have everything and start the day right. Especially if you have beginners in your group, or less confident skiers, then skiing out on the first day can be particularly daunting.
Save Lift Time
It's all very well when you can ski out of your chalet, but you'll probably only have access to one lift, from which you have to then venture to whichever area you're planning on exploring for the day. This can often add a lot of time onto your journey if you want to get somewhere in the opposite direction, for ski school for example. If you have a driver (or take a taxi), they can take you to the most convenient drop-off points for wherever you want to ski.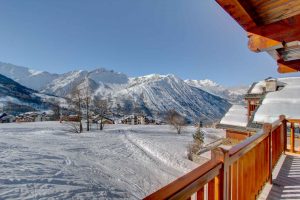 Ending up at the right place
Following on from where to start your day, similar problems when you finish for the day. You'll often only have one access route which means that you have to get high enough to be able to ski in before the lifts close. If you après ski up the mountain, in the wrong direction then you'll inevitably have to take a taxi back to the chalet anyway. Similarly, if you decide to après-ski in town then you'll find yourself shelling out for a taxi. If you have a driver then they can collect you at any time to take you home without having to lug yourself back across the mountain when you've had a Hot Chocolate or Vin Chaud (or 2) and, quite frankly, just want to get back for afternoon tea and champagne in the hot tub!
Wildlife
This might be a pro to some, and a con to others. To me, I love having access to the 3 valleys on my door step. I love the luxury of Courchevel and the live music in Méribel, but one of my favourite things about living in the French Alps is the wildlife. I've been lucky enough to do press-visits at some absolutely divine luxury chalets, located just out of the main town. With gorgeous views and no background noise, you are far more likely to spot a little deer wandering through the trees behind the chalet at night. This, to me, is totally magical.
To conclude, in my experience a lot of chalets that call themselves ski-in, ski-out are fairly hard work to get in and out of. So, if you're buying a chalet, then you can assess the ease of this on viewing the property. But just remember to check a little further afield, you might just find that absolutely magical property that you've been dreaming of. Find yourself a driver, make a deal with the taxi company, or buy a van to leave at the chalet and you're set. If you're just holidaying for a week then make sure you don't get there disappointed with how difficult it really is; and therefore, how sweaty you already are within 10 minutes of leaving the chalet! Skiing holidays can often be hard work, and I think they should be far from that. So help yourself out and make it as easy as possible.