The Rise of Ebikes in the Alps
16th September 2018 | Things to do
So the lifts have, all too quickly, closed for the summer and inter-season is upon us. This time of year is my favourite; the colours start to change, the resort prepares itself for winter and you can walk for miles without seeing another soul.
This summer has been a corker. The weather's been glorious, and the French Alps are outdoing themselves with development on both summer and winter resources. In Val d'Isère we've seen the big redevelopment continue to take shape, in Méribel the new reservoir at the Altiport has become a summer-favourite among locals. In Courchevel the new inclusion of other villages into the 'Courchevel commune' has seen villages like Le Praz continue to strive with lift developments and their wake park. But it's not just the resorts development that is changing the seasons in the Alps. This summer has seen another rise in ebikes, both for mountain biking and for touring, or hybrids.
If you've done much cycling you will have, like me, been tirelessly peddling away up a hill (or col, en Français), when someone on an ebike overtakes you with a smug smile.
Ok, maybe it's not smug, maybe they're actually just smiling. But for me, cycling up hill is a struggle. I love it, but I spend the duration whispering to myself 'one foot after the other'. So when somebody flies past me with minimal effort I take it personally.
Putting my personal, self-depricating, experiences aside, I went out on an ebike. Luckily for my research, a good friend of mine owns Sport1600 in Méribel, and I was lucky enough to drag her on a ride. Well, I've got to say on first observations that I felt like I was flying. Suddenly the world of cycling seemed to open up to me.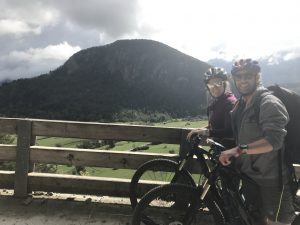 Suddenly, images of me cycling and being able to keep up with my bike-mad partner seemed in reach and tangible. As soon as I started to peddle, the bike almost ran away with me. I could feel the power underneath me. In bike-to-car terms, it felt like putting the accelerator down on a fast car.
I'm getting ahead of myself. What is an ebike, I hear you cry. Well, to some this will seem like a silly question but up to 75% of people have never heard of one. So I'll give you a little background information. An ebike is essentially a bicycle with a battery and electric motor. Alas, it doesn't work alone though, it is powered by your peddling. You peddle, and the motor kicks in to give you a helping hand. This comes in a variety of 'speeds', from 'eco' meaning in for the long haul, to 'sport', which will make you fly but drain your battery life.
Ebikes, from my conclusion, come with a variety of pros and cons, and I wanted to look at them briefly.
It makes it accessible for everybody.
This is my main pro because I really think that it is the most important factor here. When I was watching the Tour de France in the summer I got chatting to a couple who were on holiday. 'We cycled up the Col de Forclaz this afternoon', they'd said. Well bloody good effort, I'm thinking, 'we did have electric bikes though'. Ebikes open up a world of access that your average Colin and Janine from Aylesford wouldn't have been able to cycle to without the help of a little extra power. And who says that the views from the top is reserved for those who sweat their way up? I also want to myth-bust here. The ebikes only support you up to a maximum speed of 15.5mph. After that the motor will not continue to increase your speed. And ultimately, you still have to peddle to get the motor working. What I'm saying here, is that you still have to work those legs to get those views, even with the assisted power.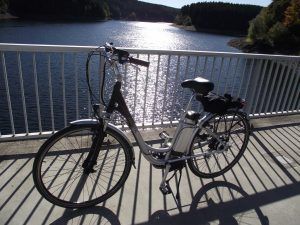 Adding to the accessibility factor is the kids. If you're a bike-crazy mum or dad, then it's tricky to drag your children on long full-day cycle rides; partly because of the unwilling, and partly because they just don't have the stamina. (The same applies here for myself and my partner!). Well then you hop on your non-powered bike, and get your teenagers on an ebike and see if you can keep up with them! I can speak from experience when I say that the joy one feels when overtaking someone who is super fit and cycles up-hill for fun is that comparable to little else. **Note, I say teenager as there is an age limit in the UK of 14years+ to use an ebike.
But accessibility reaches further than that. It also reaches to your parents visiting the Alps. Not only are they older, but also not used to the altitude. EbIkes allow them to see and experience the beauty of cycling in the Alps first hand; not just the small flat loop around the village.
[Photo Credit:
eBike Harz
]
Ebikes come in all shapes and sizes. From mountain bikes, to hybrids, to town bikes. These really are for everybody. For mountain bikers, it does mean an increase in weight for the downhill. But, if you want to hit the trails when the lifts are closed then you don't have to cycle uphill for hours on end before being able to do a one hour descent. It also means that if you're into Enduro mountain biking you can go even further than before, in the same amount of time.
Let's talk about the cons. Firstly, and I'm not sure if this is a con or just a point to note. Ebikes cost anything from £500 up. But, with the increasing popularity it is now possible to buy them second hand. Having said this, in the long run they do work out fairly economical. They're reported to only cost 5-10p per battery charge.
The downside to the battery is, of course, the battery life. It is something to keep an eye on. The positive is that the bikes do still work as push-bikes, and it is possible to turn the motor off altogether. They are slightly heavier to negotiate, but with newer and newer models appearing each year, some models are coming in claiming to be as light as 13kg.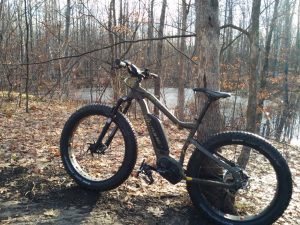 Ebike sales rose in 2016 by 12%, but in 2017 Halfords reported a 220% increase in ebike sales. The bikes are getting better and the public are getting more on board.
The brilliant thing is that they're not just good for gnarly mountain bike trails or making it to the top of the Col de la Madeleine. They're good for everyday life.
They're good if you want to go and buy milk but it's slightly too far to walk quickly. They're also great for commuting as they remove the 'arrive sweaty and out of breath' factor. Evans Cycles did a survey of 2000 commuters in London and estimated that switching from car, bus, tube or train to ebikes would save commuters £7,791 over 5 years. Not only is that a money-saving plus, but it's also an environmental and congestion factor.
In terms of the Alps, we've touched on the positive impact it has for both road cycling, accessibility and mountain biking. But it's also opening up the resort out of season. The lifts are only open for July and August outside of the winter season. That leaves 5.5 months where the lifts are closed. This down time is necessary for the resorts to recover, replenish and develop. BUT, it's fabulous for property owners or locals who find themselves in need of an activity at that time of year.
It's brilliant fun for exploring the resort, wherever in the Alps you might find yourself, and it's rare to find a bike shop that doesn't rent them out now. So I've got to say; I'm a convert. Try it for yourself, I promise you won't be disappointed!
[Featured Image Copywright: Visit Lakeland]