Val d'Isère's Renovation Update
23rd November 2018 | Val d'Isere
As you will probably know, Val d'Isère is currently one year into a 5-year, €200m redevelopment, and this summer has seen some of the biggest changes arrive to the resort. It's astounding how much they've achieved within their first year of redeveloping, and the new hotel and restaurant arrivals are particularly exciting for those of us who love to holiday there, or own property there.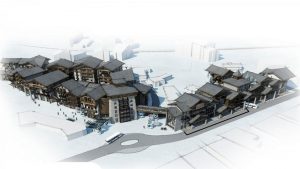 La Daille Gondola
The La Daille 4-person gondola has been replaced by a 10-person Poma lift, which cost €10m. Covering the same distance, from La Daille to the Folie Douce, the lift will also have an escalator at the top to deliver party-goers straight to the front door of the infamous après-ski bar (more on the Folie Douce news below!). The previous lift opened in 1966, and was last renovated in 1994, so after 52 years it was definitely well deserved. The new lift has 51 cabins with heated seats and WiFi, and there is even a VIP bubble. It will increase passenger capacity from the previous 933 to 2800 per hour and half the journey to 4.5 minutes. The best bit? It was designed by an Italian designer who works for Ferrari and Maserati.
Téléski des 3000 re-opens after 6 years
After being closed for 6 years, the lift, described as 'one of Val d'Isère iconic ski lifts' by the Val d'Isère tourist board, has been renovated and will be back in action for this winter. Located on Solaise, the lift allows advanced skiers to reach the 'Leissières' ridge, which separates Solaise, Le Fornet and the Pissaillas glacier. One that we're sure many of our Val d'Isère based clients will be very happy about!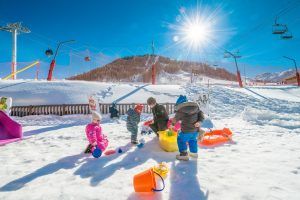 © Val d'Isère
Valkids
A new children's play area for 4-10 year olds, situated just below the Sunny Ride piste (beginner area) on Solaise. Named a 'miniature ski resort', it's intended to be the perfect place for children to delve into the world of snow-making and driving cable cars! A trip 'behind the scenes', this area we're sure will open up a new world of activities for entertaining children who can't ski all day long.
Folie Douce
The infamous Folie Douce is, of course, continuing to develop year by year. This year is, of course, no exception. I was lucky enough to get a behind-the-scenes tour last year and saw the building work happening on the new additions. The Folie's famous wine cellar which holds nearly 3000 wines and can be privately rented out for dining or wine tasting or events has had an extension. Located underneath the main Folie Douce area, there are now adjoining rooms. The first is The Beaufort Gallery; this one is particularly special, and I can't wait to see it now that it's finished. When I stepped into the room last year I was wearing a hard-hat and there was rubble everywhere, the building in full swing. However, the window had just been put into place and when I walked into that room it took my breath away. The window spans the width and height of one of the walls and looks on Mont Blanc with unbelievable and overwhelming views. This room is a 200m2 'cheese maturing' room. If that isn't enough, you can also now wander into their Cigar room to really round off the experience of wine, cigars and cheese.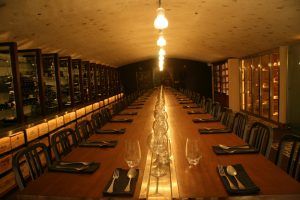 © Val d'Isère
2019 – Le Refuge de Solaise – France's highest hotel
Particularly exciting if you don't own property in Val d'Isère, or just fancy a night away (the Espace Killy can be accessed in little over an hour from The 3 Valleys), we're looking ahead to next winter for just a moment as Val d'Isère will officially be the owner of France's highest hotel. At a staggering altitude of 2551m, France's oldest cable car station (Tête de Solaise) has been replaced with this hotel/refuge. The word refuge typically conjures up mountain huts with traditional food and basic dormitory-style beds, where you take your own sleeping bag and huddle under the provided woollen blankets. Well, there's none of that here. Whilst there is still a dormitory, there are also 34 luxury bedrooms and 3 apartments, for those of us looking for a more up-market refuge experience. And quite frankly, sometimes it's nice to be surrounded by luxury at the top of a mountain! The complex is the brain-child of local restaurateur Jean-Claude Borel and local architect Jean-Charles Covarel. It will also hold a 300-seat restaurant and a spa with a 23m pool. Think very glam glamping of the mountain-world. Interestingly, the hotel is pledging to recycle all refuse and will house a furnace for waste paper & cardboard which will be directly linked to the hotel's heating system. They will store organic and plastic waste compacted in giant storage bins for removal the following summer.
Hotel La Tovière
At the 'front de neige' in La Daille, this well-known restaurant hasn't been replaced but it is hardly recognisable after its complete renovation. It has now been awarded a 4* rating with a gourmet restaurant on site. Also housing a 250m2 wellness area, it will fulfil all the visitor's needs with pool, sauna, hammam and treatment rooms.
Val d'Isère are continuing to develop and it seems that the local commerce is following suit, with even more luxury arriving. I personally, cannot wait to experience the new bits and bobs!