What's On in Val d'Isère
10th January 2018 | Val d'Isere
As I'm sure you've seen by now, the snow has continued to be unprecedented this winter. In Val d'Isère there is a base layer of 180cm and temperatures are staying low at around minus 8 Celsius, with more snow predicted in the next couple of weeks. For the first time in years we've got a proper White Christmas in the Alps, and it's glorious! Conditions have been unbelievable and the fresh powder has remained due to the fantastic temperatures. If you own a chalet in Val d'Isère, or if you're holidaying here this winter we've put together a handy 'What's On' guide for you to refer to, with all of the released events so far and without any slightly dubious translations from the French site!
One for the music lovers, artistic director Anne-Lise Gastaldi has created something for the finer ears, in the group's first concert in the Saint Bernard de Menthon church. An hour of classical music played live, and with ticket prices at a very reasonable €18 for adults this is a great early evening treat at 630pm. You can buy tickets from the Tourist Office or on the door half an hour before start time.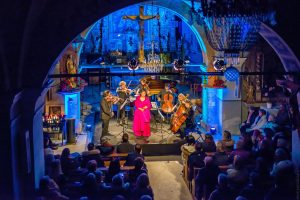 © Val d'Isère
This student's Ski/Snowboard "World Cup" comes with a variety of competitions and events. Whilst it does invite 1000 students into the resort, there are some respectable competitions to be seen, and if you're up for a party or want an evening out then there will be plenty of that on offer. Also this week, and potentially more appealing, are the pro events that are put on as entertainment which are well worth a look if you're in the resort.
This is a goody, which is why it made our '7 Top Events This Winter' blog earlier in the year. With a plethora of golf pros it's a great pull for anyone interested in the sport, with the added bonus of competitions open to everyone. Involving the whole resort, there is even a street golf event! A great chance to try out your swing on the snow, get some top tips, see some pros battle it out and see parts of the resort you may not normally see!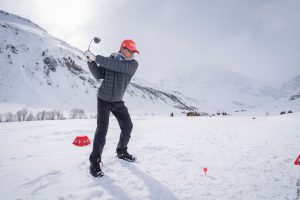 © Val d'Isère
A four day festival for any adventure film lovers. Located in the Conference Centre and Cinema, this 4 day festival will showcase 11 films which will be judged by both the professional panel and also the general public. Whilst there is free entry, to guarantee your seats you can reserve places for €13.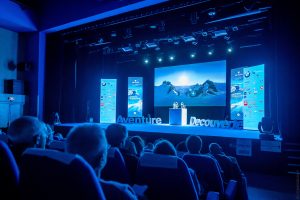 © Val d'Isère
Entering its 6th year, this is one for the Yogis in resort. A great time of year to start welcoming summer, and with, hopefully, warmer days it's the perfect time of year to be getting into the rhythm of yoga and opening up for summer approaching. With a focus on wellbeing as well, this is a must-do event for anybody interested in 'Bien-Etre'.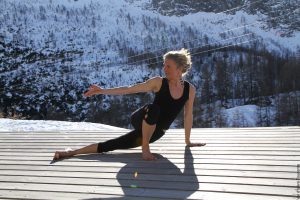 © Val d'Isère
For those wondering, plans for Val d'Isère's redevelopment continue, with work having commenced last summer. Whilst work is visible this winter, it's not making a detrimental impact to the resort and the town is continuing with winter, with two major ski events having already been held there. For the untrained eye, the resort is running well and looking as beautiful as ever, with the added bonus of the new Solaise area still running people up at record speeds! Keep an eye on the Val d'Isère website for more details and extra events as and when they're added.