We're specialist agents in this superb ski resort – here are our top 5 reasons you should buy a ski property there:
1) Location
St Martin is situated in the midst of the largest (and in our opinion the best) ski domain in the world, the Trois Vallees, with over 600kms of interconnected slopes, 180 ski lifts and acres of off-piste to enjoy. Buy a property here and you won't get bored of the skiing in a hurry, it'll swallow up all standards, abilities and disciplines in your family or group and you can all ski together, all day everyday. St Martin also sits sunning itself beautifully in the Belleville valley, with access to high altitude Val Thorens with its snow guarantee on your doorstep.
2) Its a village as well as a ski resort
Why's that important? Well if you're investing in a ski property you'll soon find that a lot of resorts can be pretty soulless places – by contrast st Martin has a full time population with a school, banks, community hall, pharmacy and shops and facilities that stay open all year round.  You'll meet all sorts of interesting people who love the mountains as much as you do – so much that they live there all year – make lasting friendships and feel part of a tight knit community in a special place. Lets not forget that it combines all that with the facilities, expertise and Joie de vivre of a world class ski resort.
Value is comparative and comparable, and in Three Valleys property st Martin de Belleville has it in spades.
3) There's no nightclub…
Sorry if that's important to you, but if you like hordes of Scandinavians charging past your Chalet window at 5am then st Martin is not the place for you. (if it is, please see our Chamonix Sud property for sale). The resort has a laid back apres ski scene centred around the four bars in the village. However, people come to st Martin for the food – whether you've skied down for lunch at La Voute or L'Etoile des Neiges, dined in Le Lachenal or Le Montagnard or pushed the boat out at three Michelin starred La Bouitte, the resort is known as a mecca for gourmands because of the quality of the restaurants there.
4) Property Diversity
Sounds strange but stick with me: St Martin is an old mountain village that over the years has expanded under managed planning controls to become a superb ski resort.  Its not a purpose built resort completed to one architects design.  As such, there's property styles, sizes and budgets for everyone.  If you want those character properties with metre thick stone walls, vaulted cellars and slate roofs – head to the old village centres of st Martin and Villarencel.  A ski in ski out purpose built one bed apartment with balcony? – plenty of them lining the nursery slopes into the village centre. A multi million Euro Uber Chalet with spa, huge terraces and cutting edge contemporary interior? Come and talk to me and I'll show you my little black address book of wonderful Chalets…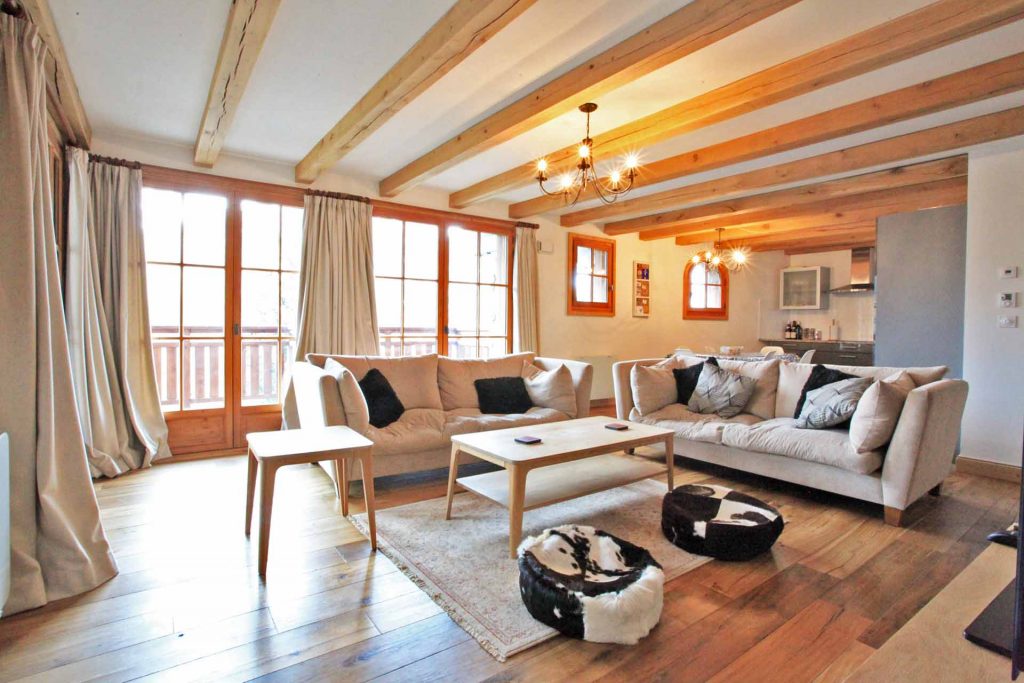 5) Value
Not a word that gets used an awful lot in top end Alpine property but lets put it into context: If you buy a property in st Martin that ticks everyone of yours and my boxes I guarantee you'll pay a third less than the same property in Meribel and roughly half of what you'd have to pay in Courchevel.  Yet these three resorts all share the same world class ski area, same transfer time from Geneva, same wonderful snow conditions and I'd say st Martins prettier to boot. The facts are straightforward – you'll pay up to 14,500 euros per sqm in st Martin, up to 20,0000 Euros per sqm in Meribel (maybe a bit more for a corker) and up to (at least) 25,000 Euros per sqm in Courchevel for a property thats 'right' in all senses. 'Value' is comparative and comparable, and in Three Valleys property st Martin de Belleville has it in spades.
Andrew Beale is Managing Director of French Estate Agents Free Spirit Alpine Follow Andrew Beale on Google+