The Refuges of The 3 Valleys
14th March 2019 | French Alps
Dotted around the French Alps are refuges of all shapes and sizes. Traditionally farming huts or shelters for those seeking 'refuge' from the changeable and unforgiving weather conditions that can be found in the mountains. These huts now offer an alternative adventure at varying degrees of remoteness. Re-built to varying degrees of luxury, refuges now offer a night away in the mountains.
The type of refuge that suits you is, of course, entirely personal. It may also depend on the day, weather and people that you're travelling with. Whether you own property in the Alps or not, I cannot recommend enough spending a night in a refuge. If you're looking for a true alpine adventure, then head to an 'unguarded' refuge, where you help yourselves to wood for the fire and bring all of your own food and drink. There is usually a nominal service charge on an honesty system and they provide blankets but I'd recommend taking your own sleeping bag along with a good headtorch for finding the toilet in the dark! Then there's mid-level where they're still quite rustic, but you have a toilet inside and you can opt to have a simple savoie dinner made for you. These days, the most popular are the rustic but more modern refuges which offer comfortable but basic accommodation and gorgeous meals in lovely home environment. Top of the range is the luxury refuges, which offer a slice of luxury from outstanding food and service to fur fugs and fleece lined dressing gowns to wear to the hot tub. Personally, we feel that the mid-range is the best option for feeling like you've had the real experience, and it's a great way to speak to locals and have a proper Savoie evening. We've rounded up some of the best refuges in the 3 Valleys, but these are all over the French Alps and easily searchable online.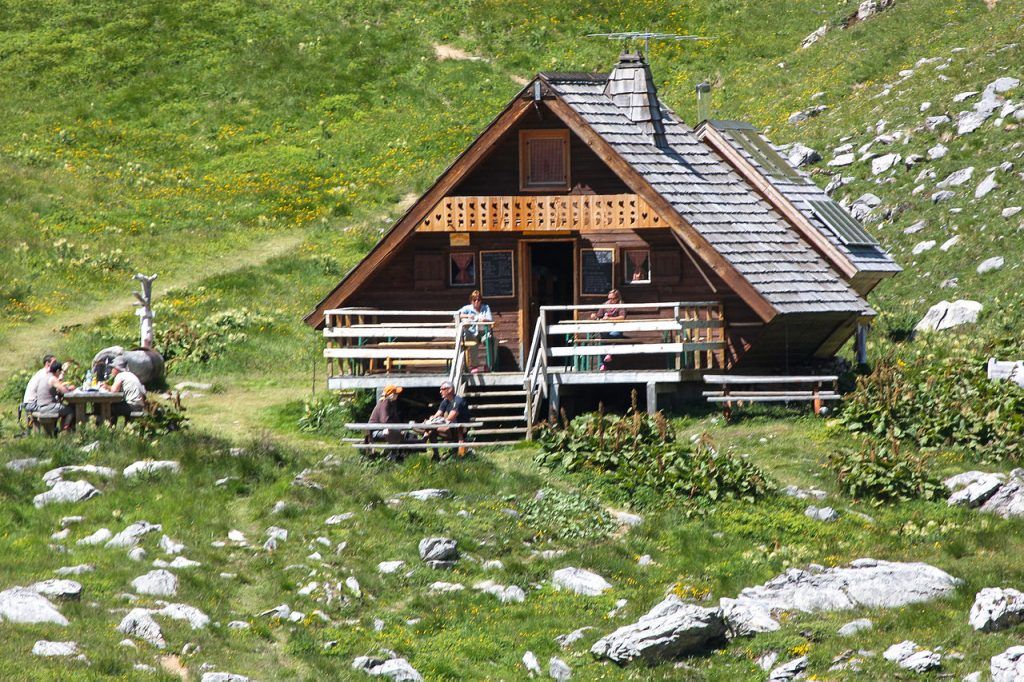 Go Back to Basics
Manned in the summer from 22 June – 16 September
Unguarded in the winter but guarded to ensure condition is kept and supplies there
16 beds in dorms
Contact for prices
Situated right in the middle of the valley, this is not the easiest to reach in the winter so you'll need touring skis and skins to get there. You also might have to dig yourself into the refuge if the snow-line is higher than the door – which often happens mid winter! Equipped with everything you'd need but essentially just a hut in the middle of the wilderness so be expected for wild conditions and take a head torch and a pack of cards!
The nickname of this refuge is Les Avals, which comes from the word Avalanche so just bear that in mind when you're venturing to this hut and make sure you're prepared with knowledge and appropriate equipment.
Stay Local
Manned all year round
13 beds in dorms and one double room
Minimum of 6 people for reservation
Night & Breakfast €50pp / Dinner €32pp
Situated just a short walk above the lake in Méribel Mottaret, this cute little refuge is perfect if you don't want to walk too far to get to the refuge or if you have children with you. It's a lovely little refuge which used to be open for lunches but is now just open on reservation. It's away from the town enough to still feel remote, and the people are super friendly and willing to help you have the best evening ever.
Go to Hobbit Land
Manned in the summer (15 June – 15 September)
Guarded in the winter
25 beds in the summer (2 dorms, 3 bedrooms)
8 beds in the winter (1 dorm)
€17 for the night, €47 for a manned night with demi-pension
Located above the Refuge du Plan (about an hour and a half further up) the reason for the caption is that whenever I do this walk I feel like I've entered a totally different land. When you get to the top of the first ridge you enter a flat and serene land, full of wildlife and it feels like you're miles away from Méribel Mottaret. This is a beautiful refuge and there are often marmottes running around outside in the summer. It's also a great place just to stop for lunch as part of a bigger walk. The size means it can be busy in the summer, which is great if you are looking to meet new people.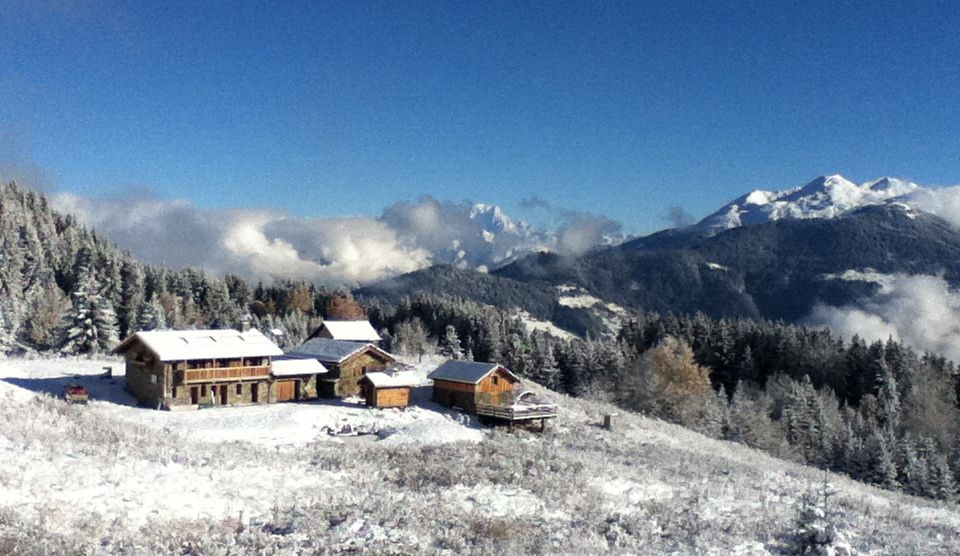 The Best Place to Celebrate
Refuge du Christ.
Guarded all year round
13 beds in 4 bedrooms
€80pp including the night, dinner, breakfast
Has a 'Bain Nordique' (wood fired hot-tub)
Has an underground disco room complete with disco ball and music system
The best breakfast we've ever had
The fact that this refuge doesn't have a website really says it all, and they are notoriously hard to get hold of both by email and phone. However, if you do then this is my favourite refuge of all time. It's about an hour and a half to walk to either from Les Allues or Meribel Centre. It's a fairly new refuge, and the bedrooms are simple but nice. The bathrooms are immaculate. The owners are really friendly and did a superb dinner of steak cooked on an open fire with fondue and beautiful salads. There is a hottub for your use and even an underground disco! I organised a small hen-do here for a group of friends who are all physios and it was the perfect evening. They were so accommodating and friendly and it's an incredibly good value night.
Email: jhrdc@hotmail.fr / Tel: +33 66 51 34 619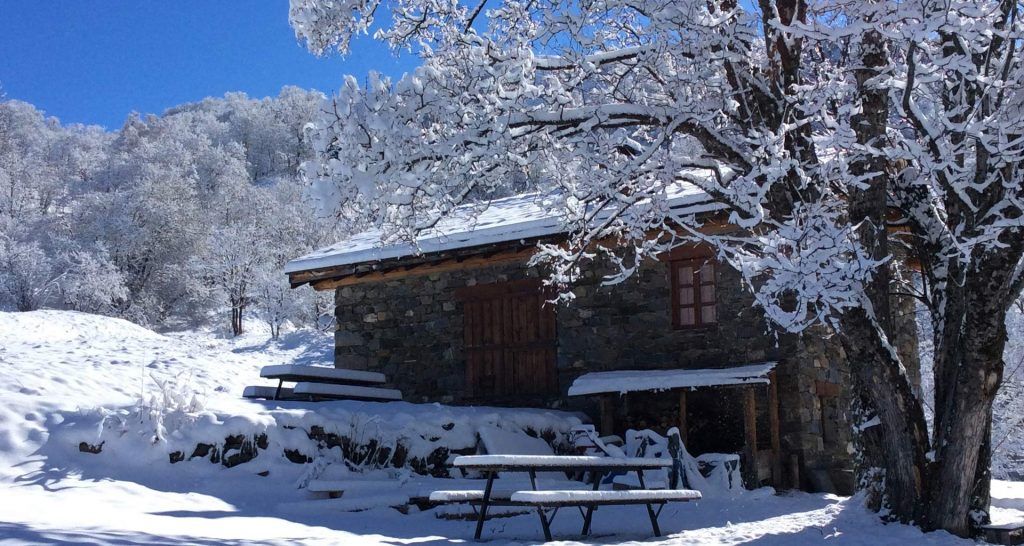 Go to the Wolves
8 beds in 3 bedrooms (1 double, 1 twin, 1 twin with mezzanine)
Guarded all year round
Has a 'Bain Nordique' hot tub but charges €20pp
€45pp for the night & breakfast, €39 for dinner
Situated just above St Martin de Belleville, this refuge is new for 2018. It's one of the smaller ones with just 3 bedrooms and is guarded all year round. It's a lovely refuge in a great location – it's just off the piste so it's super easy to get to whether on skis or by foot. The location is where the valley wolves are rumoured to be sighted, so a good one for wildlife spotters! (Don't worry, it's very unlikely that the wolves would come anywhere near civilisation.) Dinner is a choice of cheese fondue or chicken which you cook in wine (fondue style) with crozettes. This is a lovely refuge, but didn't feel as good value as the others due to having to pay for the extras (the use of the hot tub alone cost us €80 for 4 of us!) and the dinner and breakfast being very basic. For its location and cleanliness it's great for families or people looking for a quiet night close to home.
As you can see, refuges come in all shapes and sizes. They're a brilliant experience for everybody and well worth a night or two of your time. The people are friendly and welcoming and it feels like a home away from home when you step into their little transformed huts!
Head Image Copyright: [http://www.refuges.info/photos_points/9292-originale.jpeg, CC BY-SA 2.0 fr, https://commons.wikimedia.org/w/index.php?curid=8681645]