Eating out in La Tania – From everyday delicious to Michelin Star
23rd August 2017 | Trois Vallees
Julia Child said 'In France, cooking is a serious art form and a national sport'. So a guide to eating out in the trois vallees can be as easy as a list of restaurants in your chosen resort. However eating out is about so much more than simply the food. The whole experience is a very personal thing and depends on so many variables. How easy is it to get to the restaurant, is the first consideration. Do you want to be able to walk there and gently stagger home, or are you willing to have a designated driver and venture further afield? Is the food more important than the ambiance and service?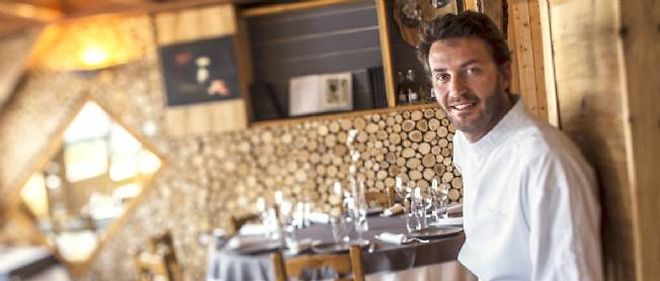 There is an abundance of fast food outlets in la Tania and if you want a quick snack you will be spoilt for choice, but there is an old Irish proverb that says laughter is brightest where food is best. For a lot of diners it doesn't come any better than the food of Julian Machet and his team at the Michelin starred Le Farcon restaurant in La Tania. Julian has said 'The best cooking is done twice a day at home, welcome to my home'. I think that sums up the ethos of his cooking with only in season local produce used. The set lunch menu is €38 and for dinner €58 with interesting variations in the menu for male and female diners! This restaurant has a five star rating with trip advisor so if you are seeking an experience that reaches your expectations for fine dining it is well worth a visit. An added bonus is that you can ski up to the front door and be welcomed ski boots, snow puddle and all.
In France, cooking is a serious art form and a national sport
If fine dining is not your thing and you prefer a definite holiday atmosphere where live music accompanies good food, then another popular La Tania restaurant La Taiga might be your choice. The Daily mail food writer thought that La Taiga was equally deserving of a Michelin star so watch this space. Easily accessible on foot for most people staying in the resort, La Taiga offers relaxed friendly surroundings and great food. With local Savoyard dishes starting at €14.50 and deserts like sticky date pudding with butterscotch sauce if its comfort food you are after La Taiga won't disappoint. Like La Farcon it's advisable to book in advance and request a night with live music or not depending on your preference.