Infamous Cycle Climbs in the French Alps
23rd July 2018 | French Alps
If you haven't noticed by now, cycling in the Alps is a big deal in the summer. This summer, admittedly, it has been slightly trickier; last winter's epic snowfall was not kind to the roads. Whilst the resorts work on bringing them back to full justice (and to allow speedy descents), we wanted to round up some of the most famous cols. So, let's start with a little insider knowledge; a Col is a mountain pass. People cycle up them…for fun?! I know, it sounds ludicrous. But how often do you take the time to observe the views around you, whilst totally out of breath and thinking you may die? I joke. Road cycling, for most people, is a slower way of life. A chance to take some time out and look. Amidst the Tour de France (TdF) hall of fame, there are a lot of famous climbs in the Alps which are easily accessible from your holiday home in the Alps. In reality, you can just cycle up any of the hills and it'll be a tough climb if you're not used to it. But no matter where you cycle, you'll be rewarded at the top. If, however, you are into your cycling and are keen to follow in the footsteps of some of the greatest cyclists, here are some of the best-known cols, awaiting your arrival…and ready to test you.
Dénivellation; Term used to describe the difference in vertical metres during a cycle climb.
Col du Petit Saint Bernard.
Dénivellation 1400m.
Length of climb 31km.
This is a classic climb, but a good starter if you're just beginning your cycle career. It has much softer gradients, with an average of less than 5%, and amazing views of the Mont Pourris glacier, and Mont Blanc. A beautiful pass, that'll make you feel you're on top of the world.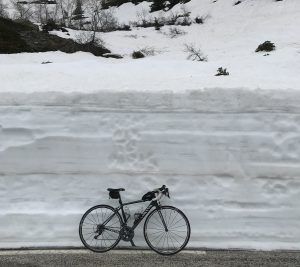 (Credit Jojo O'Brien; Female Cycle Guide & Outdoors Guru)
Col de la Madeleine.
Dénivellation 1522m.
Length of climb 19km.
David Millar described this climb as his nemesis. As a part time road cyclist, I admit I am yet to face the Madeleine. Hard and brutal. Enough said?
Col de Joux plane .
Dénivellation between 700-1000m (depending which side you ascend).
Length of climb 11km.
This Col is featured on our blog about Morzine as they close the road for cyclists to enjoy, car-free.
Lacets de Montvernier.
Dénivellation 750m.
Length of climb 2.5km.
This climb is absolutely incredible, and featured in the TdF due to how good it looks on a helicopter camera! Don't be fooled by the short distance, you'll have to cycle a fair bit further to arrive there. Featuring 17 hairpins over the short distance and with an average of 8% gradient, this is one for the photo book.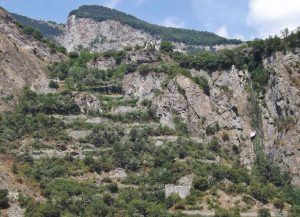 (Credit Florian Pépellin)
Col de l'Iseran.
Dénivellation 1955m.
Length of climb 47km.
I know what you're thinking, 47km of climbing! Luckily, broken up by some rolling hills with flatter sections, this mountain pass will lead you to Italy from Val d'Isére. The full length is calculated from Bourg-Saint-Maurice, and makes it the longest climb in France. Optionally, you can skip the lower bits and just hop on higher up – for all of the glory and less of the pain. Cycling at a height of 2770m, you'll feel the altitude.
Cormet de Roselend.
Dénivellation 1227m.
Length of climb 20km.
This road links Bourg-Saint-Maurice and Beaufort. Cormet is local dialect for a col, or mountain pass. If you descend toward Albertville you'll be rewarded with a 43km descent. If you're feeling super sporty, there's even an awesome Via Ferrata on the top of the Cormet.
Alpe d'Huez.
Dénivellation 1200m.
Length of climb 13.8km.
The ultimate climb. People fly from all over to climb Alpe d'Huez; which is why it's become the second most cycled hill in Europe, after Mont Ventoux. A beast with 21 hairpins and an average gradient of 8.1%. Not for the faint hearted, a must for serious cyclists.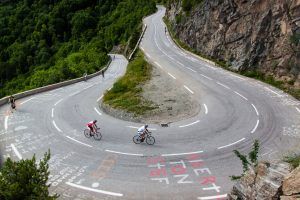 (Credit Robbie Shade)
Col du Galibier.
Dénivellation 585m.
Length of climb 8.5km.
This is a variable length and vertical status. The above is stated from Col du Lautaret, which is the actual climb to the sumit, and has an average of 6.9%. This part of the climb has been crossed a staggering 58 times in the TdF.
There are mountain passes all over the Alps, the winding roads and steep elevations lend themselves perfectly to a road bike. So no matter where you are, if you can grab a bike, you don't need to go big. But if you want to, strap on your Strava and get competing against the best!