The Beauty of Spring Skiing
9th March 2018 | French Alps
It's officially March. And after a long, cold winter we finally have some sunshine, some bluebird days and, dare I say it, a little warmer weather! I know, I shouldn't complain after the incredible snow we've had, but the joys of spring are in the air, and I am not complaining! For many, there is a negative connotation associated with spring skiing. Thoughts of slushy snow and green pistes seem to 'spring' to mind (you see what I did there!). But that is certainly not the case, and especially this winter. With all of the snow we've had, and the brilliant condition it's staying in, if you're considering spring skiing, this is certainly the year to dabble.
Why, you cry? Well, sit back, sip on a sunny Aperol Spritz and let me enlighten you.
1. Feel like a pro on the moguls.
Whilst my first thought would always be towards sunny lunches, I've restrained myself (and moved it slightly lower in the list!). At the end of the day, we're all here to ski (a bit!), and moguls defy us. Check out our blog on top tips for how to boss the bumps, but for now, think about the warm weather softening the snow. Soft snow means soft bumps, which means less impact and easier to navigate.
2. You get a lie in.
As a child, nay, a teenager, I often returned from ski holidays feeling jaded, mid-week wailing to my dad who was insisting we had to be up for first lifts. "It's a holiday!" I would cry! And yes, it is. And spring is the perfect time to use this to your advantage. First thing in the morning you may be confronted with icy runs which haven't softened yet, but by late morning everything is just starting to soften and providing the perfect conditions. The perfect excuse for a little lie in.
3. Warmer weather means happier kids.

If your kids are ski-mad too, then you'll have no doubt encountered the days of freezing fingers and toes. As adults, we know how unpleasant this feeling is, but for children it's unbearable. Spring comes 'hand in hand' (puntastic today!), with warmer limbs and therefore happier children, which results in happier parents!
4. Softer landings.
Whether you're a seasoned pro who's owned a place in the Alps for years, or you're bringing a beginner guest to stay; softer snow means softer landings! Need I say more?
5. More animal sightings.
One of my favourite things about living in the Alps is the wildlife. Stepping out of my front door and seeing a deer pass by will never get old. Over winter, whilst you can still sight deer (and the odd wolf or wild boar if you're really lucky!), there are considerably less animals which can be sighted from the lifts. But by spring, more animals emerge from hibernation, including the ever-adorable and local legends, the marmottes. Keep your eyes peeled, especially on the Tougnette lifts and also on the Saint Martin Express!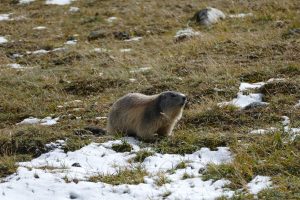 6. Long lunches and après-ski.
I'm sorry, I couldn't resist! If your legs get too sore, or the snow gets too heavy, then head for sunny terraces, long afternoons of laying and basking in the rays, and make sure you don't forget your suncream! With the sun setting later and later, you can sit and enjoy live music in the warmth; perfect!