Travel to the Alps; Just How Easy is it Now?
27th February 2018 | French Alps
It's 2018 and we travel more than ever before. New and exciting destinations are the norm for the seasoned traveller, and ski holidays are no different. With accessibility and ease of location being a high priority, travel to the Alps can still come with the toll of an arduous journey, which is not how anybody wants to start or finish their ski holiday. Memories of 20 hour coach journeys across France, or even 4 hour journeys from the airport. My younger sister having to sit up front to prevent her from throwing up and consequently gassing everybody else out for the remainder of the hairpins, whilst trying to get up to our final snowy destination.
In the last few years, transfers to and from the French Alps have taken on a meaning of their own, with transfer companies popping up left right and centre. The demand is very clearly there for new vehicles to and from ski resorts providing shared or private transfers that whisk people away, without the faff of waiting for a coach load spread across 3 different flights.
But it's not just transfers that have improved. I've been taking a look at travel to the Alps recently, and have rounded up my findings. It may be that you've always driven, or always taken a coach to get to your favourite ski destination, alas…maybe there is a better alternative!
Snow Train
The Eurostar goes from London all the way to the French Alps from as little as £75. The best bit about this, however, is the fact that it stops in Moûtiers, Bourg-Saint-Maurice and Aime-La-Plagne, which is a minimal drive to get up to the 3 Valleys, Espace Killy and Paradiski respectively. Especially ideal if you suffer from car sickness and have the added talent of being able to sleep anywhere. This has grown in popularity over the last few years, and now runs more frequently. A favourite is the Friday over-night train, which gets you into resort around 7am, allowing for a day making the most of the quiet Saturday slopes!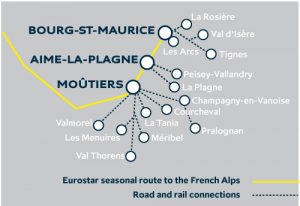 Private Flights
There are a huge number of ski resorts hosting heli-pads and altiports (airports), which is, let's be honest, the most convenient way to travel to The Alps if you either own a small plane or helicopter, or if you have the means to hire one. There are multiple companies offering flight transfers, whether from the UK or even just from your airport of choice. All of the altiports are fully functional and in use throughout the week. Short flight times, unbelievable views and landing minutes from your chalet; is there a better way to travel?!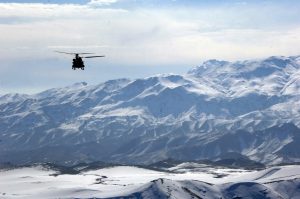 Private & Shared Transfer
The ultimate in convenience; your own driver waiting for you when you land. No waiting and the majority of companies now using brand new vans every season almost guarantees a smooth ride. To be able to work as a transfer driver in France you have to undergo a test and a health check, so if you insure that you're using a fully registered company then you know you'll be in safe hands.
Shared transfers work on the same convenience but at a fraction of the cost; not practical if you're travelling as a group, but extremely cost effective if travelling alone or as a couple. There are an absolute plethora of companies within The 3 Valleys to choose from.
© 3 Valley Vans
Flights from the UK
Still the most popular way to travel to The Alps, flights between the UK and the Alps seem to increase every year. More and more flights from places other than London, more frequently and with lower and lower prices. Flights from London to Geneva coming in at as little as £30! Added with the ease of the new transfers is certainly making this the fastest and most popular route.
Self Drive
Granted, you've got the luxury of your own car, stopping when you like and driving at your own pace. But for a one-week holiday, can you afford the 12 hour (minimum) drive & crossing time? On the way there it's all very exciting, but when you're exhausted, wind-beaten, slightly sunburnt and with sore calves, do you want to be holding down the accelerator for 10 hours of straight road?!
Whilst the snow train transfer up to Espace Killy from Bourg-Saint-Maurice is still a fair chunk of 30-45 minutes, it certainly beats the 3-4 hour transfer from Geneva airport.  I have never actually taken the snow train, but I hear intriguing stories of journeys consisting of champagne and card games with none of the fuss of flights! It is definitely good news for our beloved ski holidays, however you look at it. For now, I'll keep saving up to the day when I can fly in on a helicopter!