A Guide to Ski Touring in The 3 Valleys
30th September 2019 | Trois Vallees
Ski Touring is the mountain's best kept secret and ultimate gift to us mere humans. What decreased in popularity when the lift systems got more and more advanced has once again started to rise in popularity as people go in the search of untrodden adventures, fresh tracks and new experiences.
Whilst ski touring does require a basic level of fitness and mountain knowledge, it certainly isn't reserved for the hardcore thrill-seeker among us. With more and more resorts putting investment back into ski touring.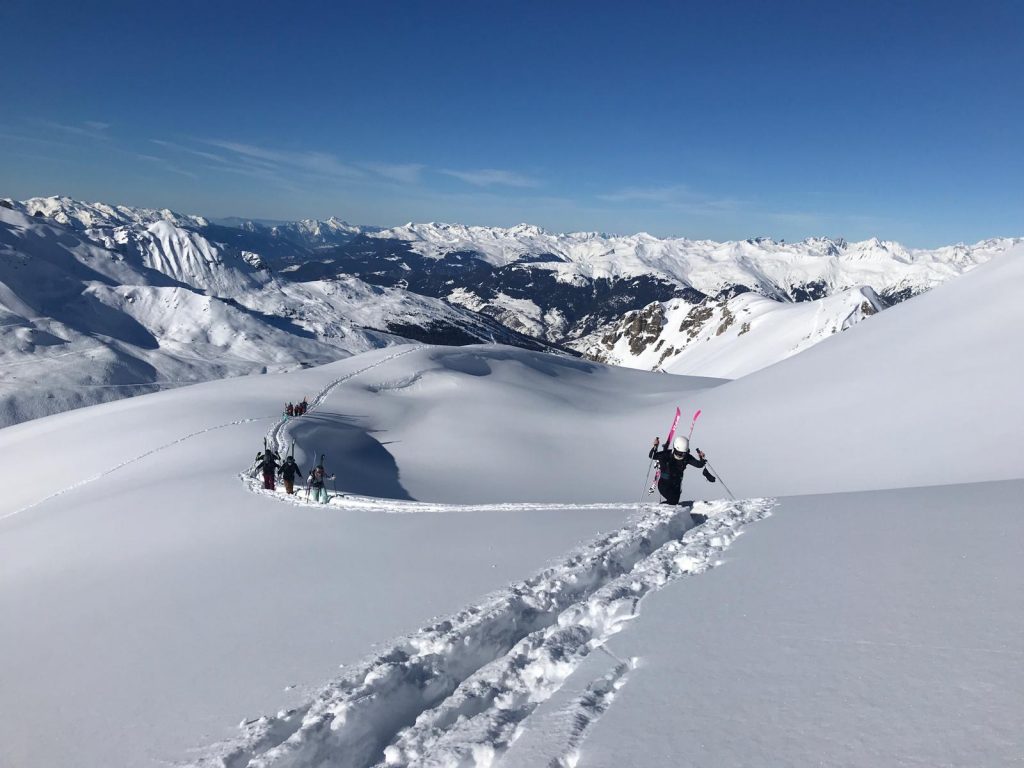 For those new to the sport, ski touring is a pair of skis (of all shapes and sizes, from wide backcountry skis to narrow touring-specific skis), with touring bindings on. These have the option to have your feet clicked in like a normal binding or released completely at the heel. The binding then sits at varying levels of height in order to protect your ham strings and reduce the stretch when on very steep inclines. You can ski tour in normal ski boots (better if they have a walk mode, or if you can wear them on a loose setting), but specific ski touring boots are recommended; with a much bigger flex they're useless on rock-hard piste, but brilliant when you need a bit more flexibility! Last to the kit list is your 'skins'. Essentially, pieces of felt (or synthetic similar), which stick to the bottoms of your skis. They stop you sliding back down as you head up the mountain. Just don't try and ski down with them still on (you won't get very far!), and the best tip I ever got given for ski touring was to get those skins off your skis as fast as possible when you reach the summit. After sweating your way up, if the cold gets to your hands you'll struggle to get them off!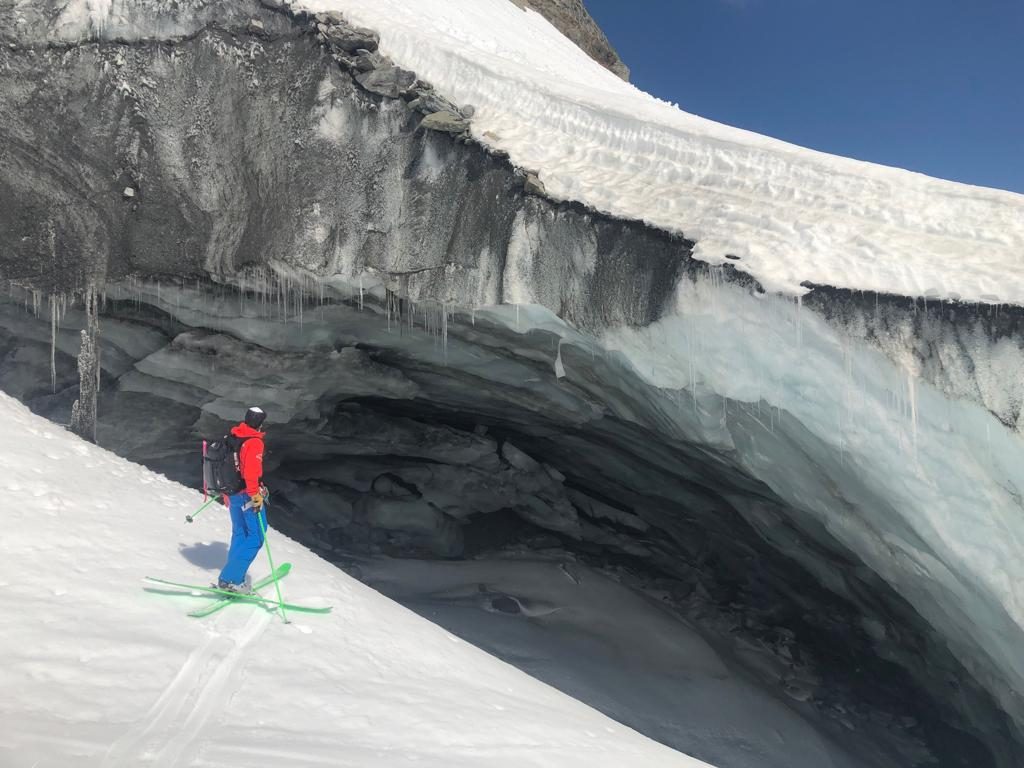 Now of course, there's nothing to stop you (technically) just heading out on the mountain in search for new areas; but unless you're a fully trained mountain guide then it's unlikely that you'll be safe in this situation. Not only could you find yourself in danger, but potentially causing danger for those around you. That is one of the big reasons why resorts have started to create dedicated ski touring areas and routes where debutants can go and 'find their' feet in ski touring, without the pressure or danger of going deep off-piste. It cannot be argued against the fact that on any given day, the best way to find the best (and subsequently, the safest), routes is with somebody trained to know the mountain inside out. Below, we have covered just some of the routes and options from the groomed and pisted to the backcountry.
Courchevel
Courchevel was actually the first French ski resort to create a groomed and secure course for ski touring (also known as ski mountaineering). Given its access links to the rest of the valleys, it makes a great place to go on a ski touring holiday (or even, just to dabble during your regular ski holiday).

The premier route was created in 2012, and is 3.2km with a hefty 500m elevation gain. From Le Praz to Courchevel 1850. The great thing about this route is that its celebrated on a weekly event. Whilst you can use the route at any time, once a week Millet hold an event at night where you can race against others (alone or in a team), or just race yourself on your previous time!
If you fancy a bigger challenge, take the slightly newer route from La Tania to the summit of La Loze. The longer 5km run has a considerable 1000 metre of elevation gain, hence the weekly Plum Moontain (previously the Plum KV) race – the Vertical Kilometre.
New for Winter 2020 is La Trace. Near Courchevel (1650) Moriond, this seems to be the best of both worlds as it is signposted but ungroomed. Leaving from Le Belvédère, it winds up through the forest, next to Les Chapelets piste before summiting at the top of Le Signal chairlift.
If heading away from the signposts, ask your guide about the Col de Chanrouge, Petit Mont-Blanc and Breche de la Portetta. The Petit Mont-Blanc, in particular, is part of the Vallee des Avals, which is absolutely beautiful, but lest we be reminded that Les Avals comes from 'Avalanches'.

Méribel
Méribel's only dedicated and permanent route is from Mottaret le Hameau to Plateau des Combes. However, it's far from missing out. Located right in the heart of the largest ski area in the world, its access is not something to be sniffed at. With the crown jewel of the valley being the Gebroulaz glacier, known as 'The White Valley of Vanoise', this can be as little as a one-hour hike. Of course, nothing is that simple! So, there are multiple options when you reach the glacier, from extending your hiking to skiing into the town of Pralognan.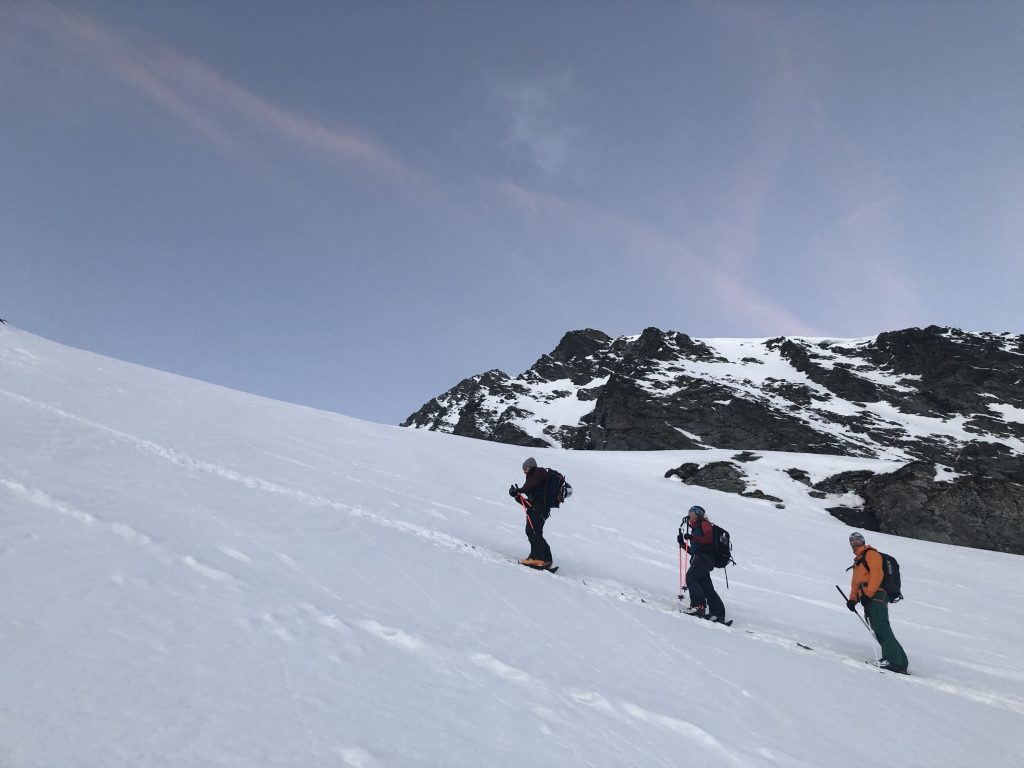 Val Thorens
For navigated routes, check out Camille; a gently ascending route through which you can distract yourself from the burning in your legs with archive photos of the resort. At just 1.5km and a 280m elevation, this is a great route for beginners wanting to practise their technique.
If you've got more of a competitive edge, register for the Dynafit Leopard tracks. 100% natural, and departing at 17h, the race summits at Chalet de la Marine; 2500m. It's about an hour of climbing, but all of that hard work is well rewarded with Mulled Wine and Onion Soup; now that's my idea of an exercise race!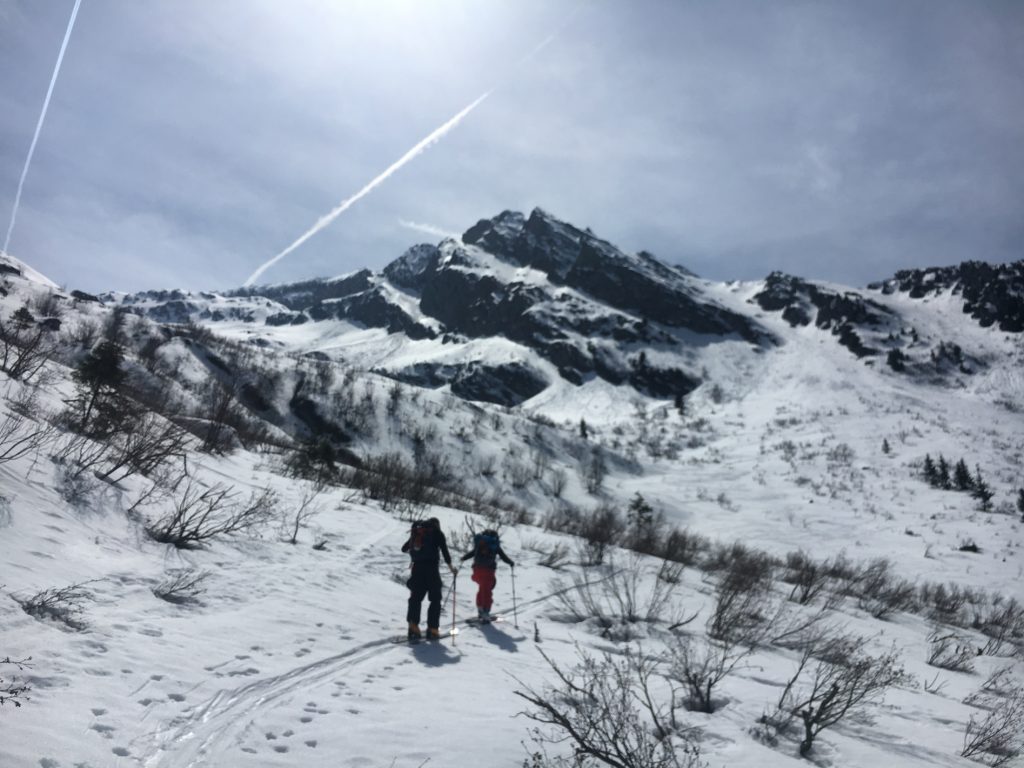 Vallée des Belleville
One of my favourite places in The 3 Valleys is the Lac de Lou. It's an area of off-piste that is accessible to most confident red-run skiers, once spring warms the snow pack. You can ski in and out of this area in a day, but for a particularly special experience, opt for a stay at the Refuge du Lac du Lou (situated at 272m altitude).
Les Menuires have started to create more and more ski touring routes, including a night hike, aptly named L'Étoilée which finishes at the Refuge.
You may have read our blog about heli-skiing being illegal in France, and indeed it is. But as we discussed, there are loop holes within this. For example, you can ski off the back of La Masse, and finish at the bottom of the valley where a local will bring you a beautiful Savoie lunch and wine (by Skidoo!), before you take the helicopter back to the altiport. Reverse heli-skiing!
We heard a great quote from a ski instructor in The 3 Valleys, who has been teaching and skiing here for 20 years, who said that every year they find new places to explore. Now that's the definition of keep exploring!
Free Spirit Alpine always strongly recommends that people use an experienced and qualified guide when heading anywhere off the piste, or into unknown terrain.