Courchevel 1650 Property – The Experts view
29th August 2022 | Courchevel
Our Courchevel agent Dave Morris gives us the insider view of just why the Courchevel Valley has some of the most sought after new build developments in the Alps today
Courchevel is a beautiful, north facing ski resort offering some amazing skiing itself without even venturing beyond to the other resorts of the expansive 3 Vallées.
It isn't one self-contained resort in that it comprises 5 separate levels or stations each with their own particular character.
There is Courchevel [1850], Courchevel Moriond [1650], Courchevel Village [1550], Courchevel Le Praz and Courchevel La Tania. Each of these areas are very different and for this reason Courchevel lovers have their own preferences depending on their tastes. For instance, Courchevel [1850] offers all the uber luxe and fine dining you could wish for whereas La Tania offers a hamlet of chalets without the glamour and glitz but with great access to all the best skiing. Le Praz offers the authenticity of an old mountain village and Moriond and Village offer a more familial feel.
One thing is for certain, however, Courchevel, as a whole, keeps on regenerating. You can see this from the regular improvements in the lift system and infrastructure year on year as well as the new lodgings that continue to flourish.
Courchevel 1650 Property
It is great that we see new modern Residences in all areas of Courchevel and one of the best regenerations has happened in Moriond [1650].
Moriond, or 1650, as it was historically known, has always been a more family friendly, less glitzy counterpart to its higher altitude cousin just up the road and many people love it for this. It's probably accurate to say that until fairly recently it had its inconveniences. Much of the main street needed a face lift and the main telecabine out of Moriond had become a little tired. The lifts in the valley dividing old 1650 and 1850 were slow or difficult drag lifts putting more emphasis on the division rather than the ease of travelling from area to area.
By 2022 however all these things have been resolved. The new telecabine whisks people away quickly and efficiently, modern chairlifts carry you between areas blurring the delineations between them and new restaurants and new businesses have given a fresh feel to main street. Now Courchevel Moriond offers you some great restaurants on piste and in town as well as some great places to stay.
There have been many developments over the years in the real estate market. Stunning modern chalets line the Belvedere area and tired, old, cramped apartments of yesteryear have been replaced with spacious modern living spaces ideal for winter holidays or even regular year round bases.
Amongst others, there are three great Courchevel 1650 property propositions in Moriond that Free Spirit Alpine can show you: Le Manali, Sundance Lodge and Steamboat Lodge. Le Manali is on the snowfront and Sundance and Steamboat are in the main street close to both shops and skiing.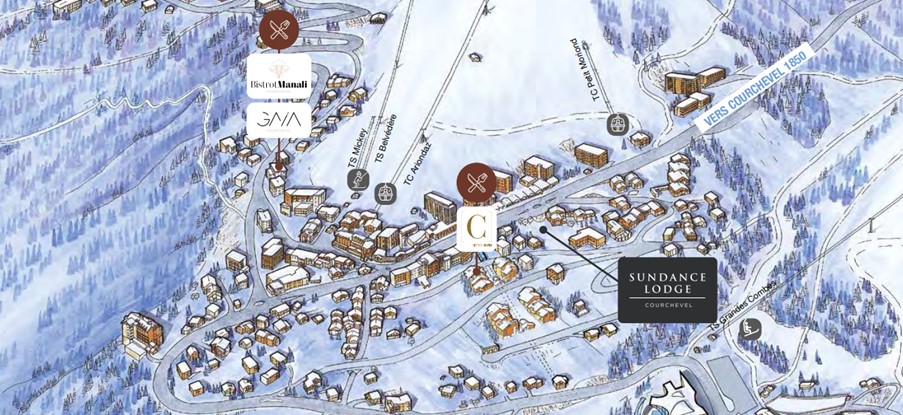 Three Stunning new build developments in Courchevel
They all follow a formula that puts a great new spin on buying property in the Alps. These new developments are not just an apartment to buy and move in and out of for the winter holidays as they offer so much more:
Here are just some of the why you would buy an apartment in a new build such as this:
They are all beautifully finished and you get some say in how you want the layout and furnishing if you buy off plan.
They are all expertly designed, spacious, modern and elegant – a place you will look forward to going to on every occasion.
All three offer a 'hotel' experience including reception, conciergerie and each has their own dedicated ski rental and ski shop.
Should you be willing to rent out your property you can benefit from a 20% VAT reduction on the purchase.
There are exceptional in-house restaurants in the complex.
A spa and wellness centre is for shared use of residents of the complex meaning that relaxing and pampering after skiing can become part of your holiday.
The maintenance and rental of your property can be expertly managed in house leaving you stress free as well as helping with mortgage repayments.
All are in prime locations either on the snow or in the centre of town but never far from the snow.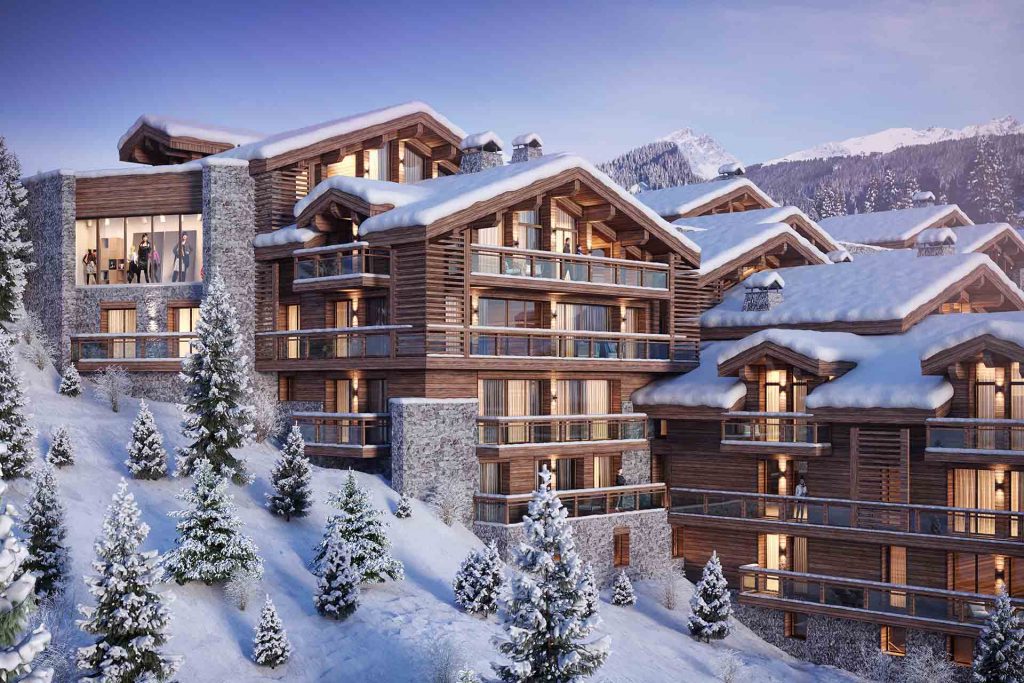 All in all, the experience these developments offer is akin to having a private quarter in an alpine hotel and this is only available in a few small pockets in the Alps. Le Manali is already constructed and open to visit. It is a great way to get a 'feel' for all three places as they share the same developer and essentially the same formula. There remain a few properties available for two bed, three bed and four bed apartments.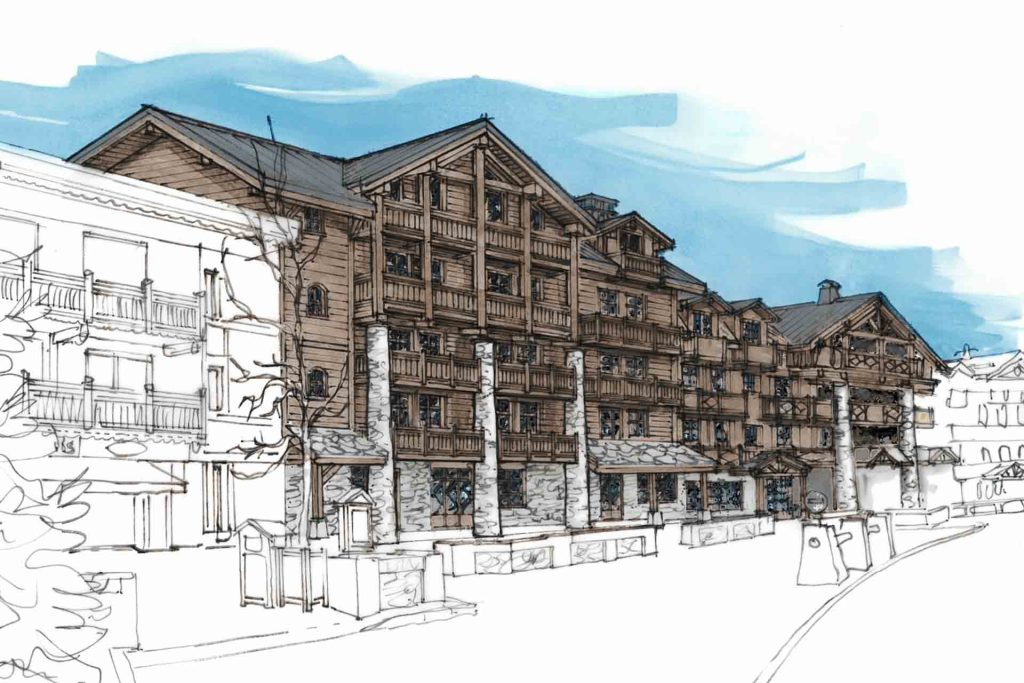 Equally with Sundance and Steamboat, the sites are now under construction and a good proportion have already been reserved or purchased. There does remain a selection of 2 to 5 bedroom apartments in each.
As a guideline for these developments, a 2 bedroom apartment of 70 -90m2 is typically in the price range of 1.2M€ – 1.6M€ , a 3 bedroom apartment of 120m2 can be found in the region of 1.8 -2.1M€ and a 4 bedroom apartment of between 150m2 – 200+m2 can be found in a larger spread of 2.6M€ – 5M€.
Our Agent Dave Morris writes our Courchevel valley and property Market Analysis – to see Dave's Bio – click here
To see all of our Courchevel property – visit its property section here