The Three Valleys still hold the title as the biggest ski resort in the world, and for just reason. Super accessible and varied terrain brings people to the area to ski and purchase property year after year. Whilst Val d'Isère's Christmas activities move around the village with light spectacles, and Morzine definitely focuses more on family activities, Méribel and Courchevel takes a more traditional route.

Méribel
Monday 24 December & Tuesday 25 December
Following the true French tradition of celebrating Christmas on Christmas Eve, Méribel will celebrate in the same way on both Christmas eve and Christmas day. The only difference, is that on Christmas day you can also see the valley's ski instructors slide down the pistes with open flame as they perform the torchlight descent which will end at the Chaudanne – where there will also be drinks to warm you as you wait!
0930-1100. Take yourself for the weekly welcome drink on the Chaudanne, but with a Christmassy difference. Santa will be there giving the weekly advice on the best runs, where has been pisted, and some safety advice. He'll have hot chocolate and, for the lucky few, some little gifts.
1100-1400. Find Santa on skis!
1400-1500. Head to the Inuit Village to see Santa arrive on a very special dog sled!
But, the main event is really the evening. From 5pm until 7pm. Enjoy a complementary hot chocolate and sweets as Father Christmas heads through the town with his Christmas Parade. Complete with an orchestra, and accompanied by Mademoiselle Paillette's troupe of stilt walkers and acrobats. They'll end up at the Tourist Office where people will gather around the tree to sing carols with a small live jazz band. Father Christmas will take pride of place on a throne where children can have a photograph with him.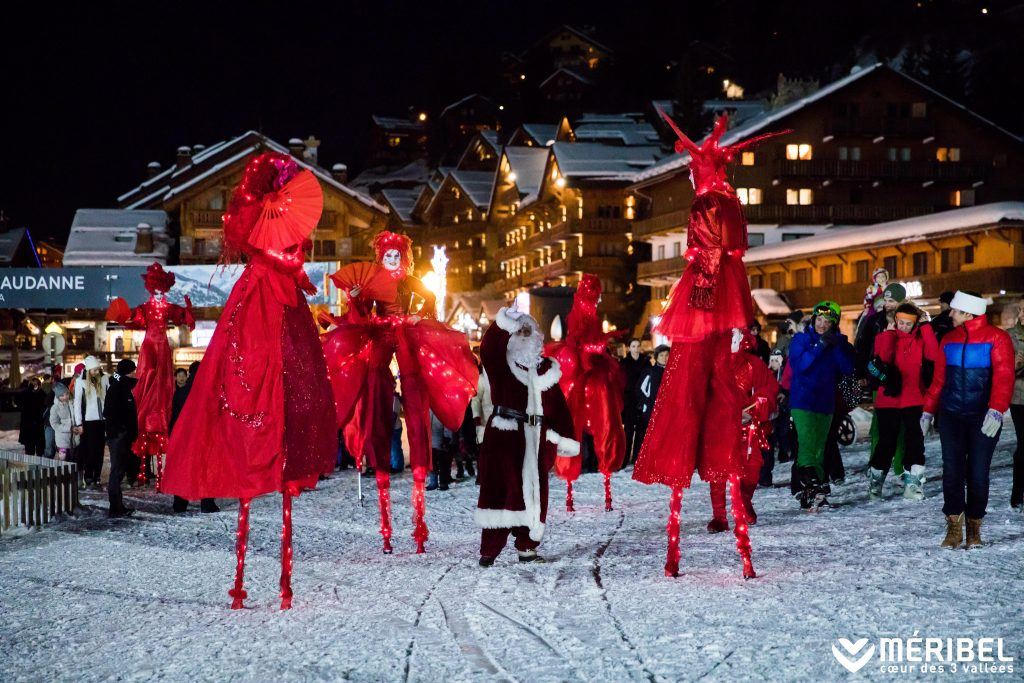 Courchevel
Now incorporating the different villages at varying altitudes, Christmas really will be all-inclusive in Courchevel this year. You can find activities from Le Praz and through all of the villages up to and including Courchevel 1850.
Monday 24th December
Make your way to the centre of the village you're staying in to see Santa on his sleigh:
3pm-330pm La Tania.
4pm-430pm Le Praz.
5pm-530pm Courchevel Village (1550).
6pm-630pm Courchevel Moriond (1650).
7pm-730pm Courchevel 1850.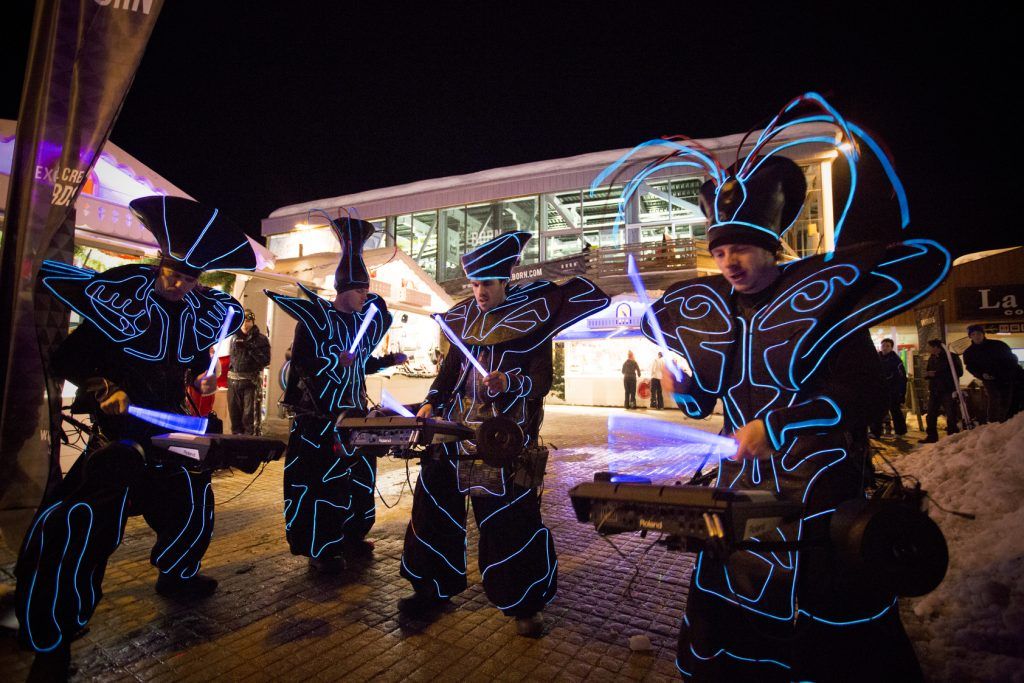 For a deeper experience with the children, dive into the Christmas scene in Le Praz. Listen to stories and traditions of Christmas in the mountains. Let the guide transport you to the past, 'when the snow isolated the villages and we gathered for the evening around a good fire, telling legends and tales that made children dream'.
Tuesday 25th December
From 0830am La Tania. For a truly unique experience for the children, you can pre-book Santa to come and visit you in your chalet or apartment! Book quickly as availability is limited.
The Santa Village will be open all day and then at 7pm the traditional alpine torchlight descent will descend into Courchevel accompanied by fireworks.
Thursday 27th December
From 10-12, check out this one-of-a-kind art exhibition. In its 10th year, experience art by Salvador Dali and Richard Orlinski across the ski area (Vizelle, Saulire, Chenus). There will also be a photo exhibition on the terrace of La Croisette in 1850 which will look back at the 10 years of the exhibition.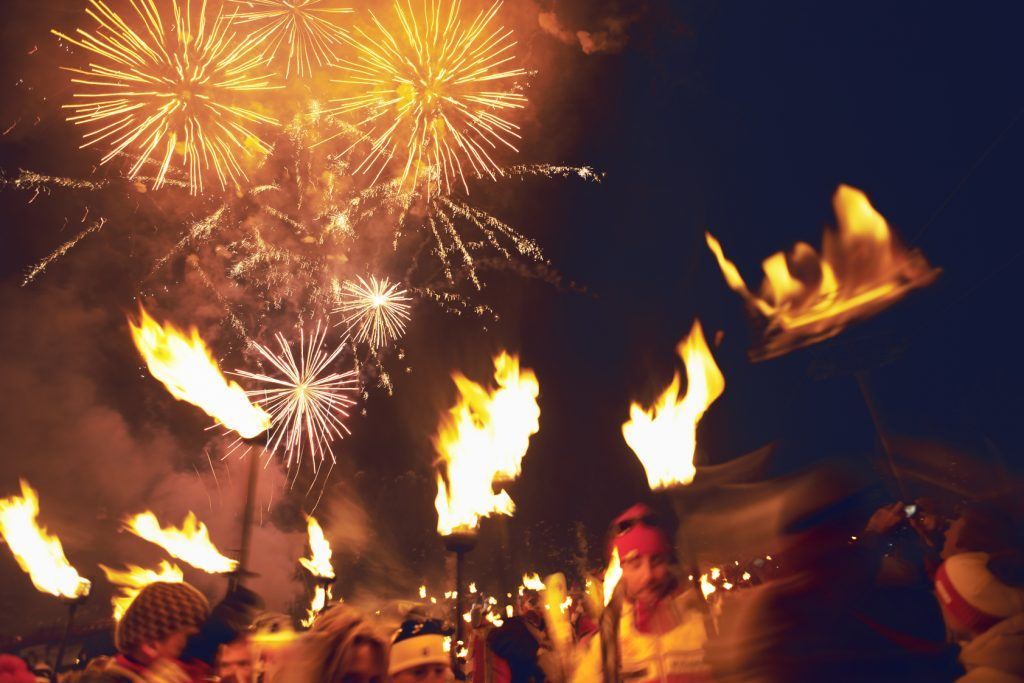 St Martin
St Martin is particularly good at keeping the traditional Savoie Alpine feel within the village, and Christmas is no different. Expect to get involved with the village ways and feel a part of something really special, for a Christmas to remember.
Monday 24th December
From 2pm-630pm, take the opportunity to take your photo with Father Christmas, who will come through the village on a horse-drawn carriage, but also ski down in the torchlit descent! Expect him to pop up here, there and everywhere. If you catch him in his carriage, you'll probably hear him coming as he's accompanied by an accordion. Follow the illuminations lighting the path and wind through St Martin with him for a magical walk.
6pm. Of course, no Christmas in the Alps is complete without a torchlit descent by the valley's ski instructors! But this one will be accompanied by a pyrotechnic show! So expect music and fireworks galore (don't miss the free hot chocolate and vin chaud!)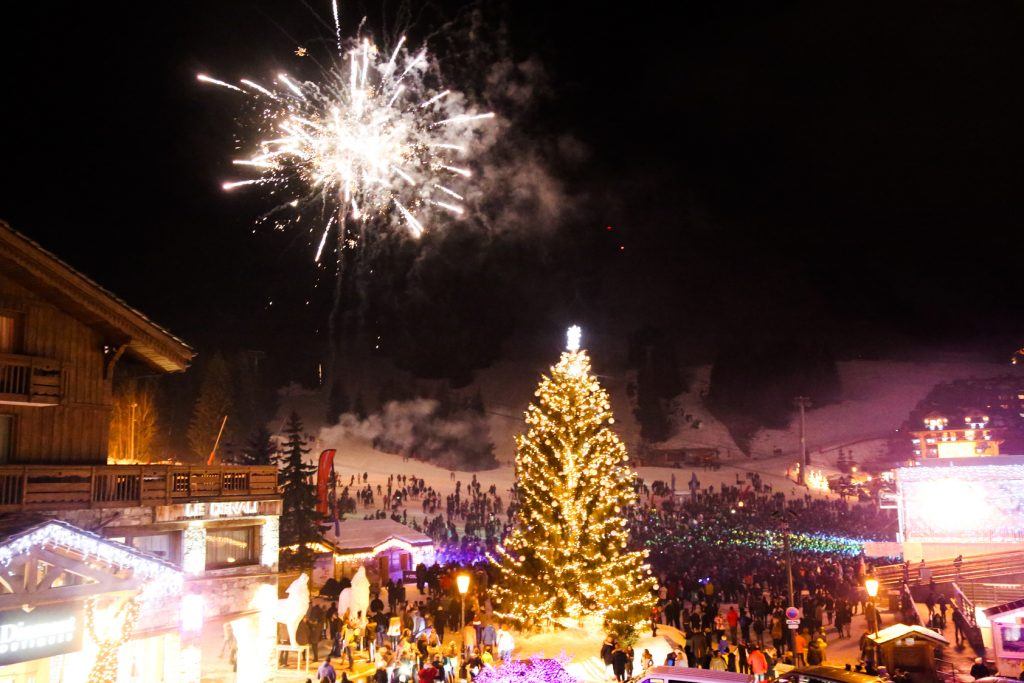 Tuesday 25th December
Christmas in the Village. This series of plays is a must-see for any family with children.
2pm at Grangeraies, 445pm in the village centre. See the Teasing Elves who will delight with their naughty ways at having fun and entertaining their audience! Expect confetti, balloons, and firecrackers!
6pm then brings the Rooftop show, where we follow the personified fireplaces who are worried about Santa's imminent arrival, and the disappearance of the chimney sweep! Expect puppets, songs and poetic speech.
These shows continue over the festive period, check the St Martin website for more detailed information.
Monday 31st December
At 6pm, don't miss the Fire & Ice torchlit descent and fireworks, accompanied by a pop-rock cover band. We'd like to wish you a Merry Christmas and a Happy New Year!