The 3 Valley's First Heated Chairlift
4th October 2018 | Trois Vallees
Well, the evenings are officially drawing in, the first few snowflakes have fallen and the weather has taken a definite cool turn. We're currently experiencing bright blue sunshine and warm days, dropping to what feels like sub-zero temperatures when the sun sets. Oh, the joy of summer temperatures in the Alps. But not that we're complaining of course, after a beautifully hot summer, the winter is now in sight and I keep noticing my skis every time I go into my cave, whispering 'service me!'. Which, of course, I'll leave until the last minute and then beg my friend at a ski shop to do; the same is to be expected of ordering our snow tyres. We digress…one of the things we love most about the resorts that we work in is how outstandingly proactive they are. Year on year the developments get bigger and better; and whilst we all know that skiing isn't a free sport, it's nice to see your lift pass and tax money going into aspects which we more than reap the benefits for.
Val Thorens opening date seems just around the corner, with its opening on 17 November, followed shortly by Méribel and Courchevel on 8 December. Following last winter's 'bumper year' of snow, who knows what the weather will bring this year. But what we do know, is that there are now 2300 snow makers in the 3 Valleys. If you follow us on Facebook or Instagram, you'll have seen our posts about the Méribel water reservoir; which was increased in size by 5 times last year, now able to produce as much snow cover as needed, and much more economically. On top of this, Courchevel have invested €1million in snow-making, including 26 new machines over two runs. Even Val Thorens, the highest ski resort in Europe is investing in ensuring their resort is snow-sure, with a €450,000 investment.
Over the next two years, Méribel has invested in spending a staggering €15 million on new lifts; making your ski days more efficient and the journey back from lunch even easier! This year, the main attraction is the heated chairlift from La Chaudanne, the main 'front de neige' in Méribel. The 'Legends' chairlift will replace the Plan de l'Homme and Roc de Fer lifts, combining efficiency and whisking 3600 people and hour to the top in 4 minutes and 40 seconds, with toasty bottoms and protected from the elements with the pull-down cover.
The building work is well underway in Méribel. The Plan de l'Homme lift has been excavated prior to rebuilding, and what was previously the free Ravines carpark has shot up!

Posted by Free Spirit Alpine on Monday, 25 June 2018
The other new chairlift in Méribel this winter replaces the Cherferie draglift; the 6 seater will take riders to the top in 4 minutes, and carry 2824 people per hour. New, faster lifts mean less waiting times and easier access to your favourite runs or different areas of the valley.
In Courchevel, the Grangettes gondola from Courchevel Village (previously known as 1550) to Courchevel 1850 is being replaced and will nearly half riding time. 10 skiers a time will be taken up to 1850 in a minimal 2minutes and 55 seconds, as opposed to the previous 5 minute journey!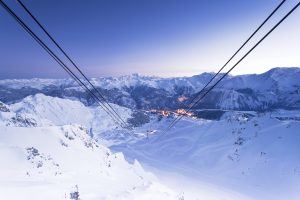 © Courchevel Tourisme/Patrice Mestari
Over to Les Menuires, and the Bruyeres gondola has been renovated with new 8 seater cabins and an increased speed ability. Also increasing its speed is the Roc 1; an extension to the boarding platform has increased capacity from 2800 to 3200 skiers per hour. The Grange charlift has also increased its capacity from 1800 passengers an hour to 2600. All of these little modifications will make days out on the slopes even more enjoyable; and even more accessible for those days when you only want to head out for a couple of hours.
In terms of pistes, the big one we're excited about is the blue run that is being created at Cimes de Carons. Standing at 3195m, this is one of our favourite areas of the 3 Valleys, with unbeatable views. Adding a blue run means that it's just that bit more accessible for intermediate skiers to get to. But keep your eyes peeled, as they'll only be able to confirm blue certification when the snowpack is down and the run has been groomed.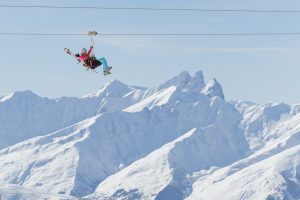 © OT Val Thorens
For those of us with a need for thrill, the famous Zip Line in Orelle has now been increased to a double zip, which will fly over three sections and arrive at Place Caron. At a length of 1600m and 65m above the pistes, this spectacular ride will be one for the photo album!
We're really looking forward to this winter, and are wondering how many times we can justify just riding up and down the heated chairlift when it gets cold? 'I'll meet you down there!'
See you on the slopes, folks, it's not long now!
Featured Image © S3V